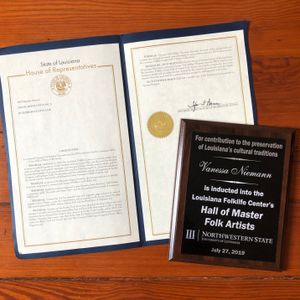 On July 27, 2019 Vanessa Niemann was honored with an induction to the Hall of Master Folk Artists from the Louisiana Folklife Center!
MUSIC VIDEO "TO MAKE AMENDS" ::
MUSIC VIDEO "IN MY DREAMS AGAIN"
MUSIC VIDEO "SHE'S A KILLER" ::
BIO ::
When the band formed in 2004, Gal Holiday and the Honky Tonk Revue were at the vanguard of New Orleans' now-thriving country scene, and they've remained in a league of their own ever since. Combining evocative songwriting and impeccable musicianship, their dance hall show and infectious energy on stage have earned them their place in the upper echelon of local favorites and helped grow an avid fan-base of two-steppers around the world.
Sometimes called "The Punk Rock Patsy Cline", "The Gal" is Vanessa Niemann, an Appalachian-born songstress who has lent her powerful voice and magnetic stage presence to various musical projects in New Orleans and around the country. Over the years, the Revue has counted among its ranks some of the finest musicians in the region. The current roster boasts guitarists Abram Racin and Justin LeCuyer in addition to drummer Gabe Marshall, upright bassist Corey McGillivary, and Button Sher on Harmonica, a welcome addition to the band during the pandemic.
These multi-time Big Easy and Best of the Beat Award recipients have shared the stage with Willie Nelson, Marcia Ball, Blind Boys of Alabama, and countless others. 2022 was their thirteenth year appearing at the New Orleans Jazz and Heritage Festival, this time on the main Festival Stage where they first played when it was still called A…. Stage. Their albums have reached as high as third on the FAR Charts (Freeform American Roots Music) and the top 100 on the AMA Charts (Americana Airplay, Americana Music Association.)
Although the band has not toured since the Covid-19 pandemic, you can still find them raising a ruckus in New Orleans and surrounding areas at dance halls, festivals, and local watering holes most any day of the week. They know the ins and outs of the country canon and can even get folks swinging to an unexpected pop cover or two, but above all, vivid songwriting is one of the group's great strengths. Their rollicking foot-stompers and poignant Crescent City tributes alike crackle with an authentic country spirit.
Armed with this kind of versatility and an ever-growing body of original material, they put on a show that never gets old, delighting rowdy dancers, buttoned-down diners, and new-to-country music listeners alike. New Orleans may be most closely associated with Jazz and Funk, but Gal Holiday and the Honky Tonk Revue prove that the city celebrates its musical diversity with enthusiasm.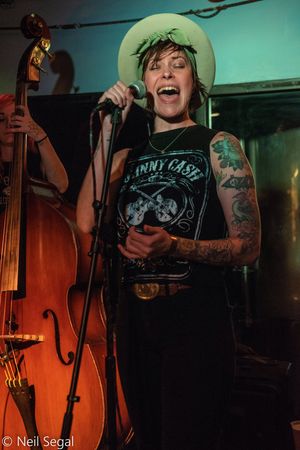 Vanessa Niemann - Bandleader, Vocals
"The Gal" is Vanessa Niemann, an Appalachian-born, Maryland bred musician who has lent her powerful voice and magnetic stage presence to various musical projects in New Orleans and around the country. Credit is due to her mother and father, both of whom are talented musicians and filled the house with music while Vanessa was growing up. Experimenting early on with clarinet and trombone, her first loves of piano and voice are the lasting ones and those which have carried her throughout a 23 year career.
Vanessa performed regularly in talent shows, at church and in countless plays and musicals settling on acting as a chosen artistic path. She studied theater through VPA, a Frederick County, MD high school magnet program but quickly found herself restless, leaving high school mid way through her Senior year. When she got wind of an audition for a Big Band at the age of 18, Vanessa jumped at the opportunity to be back on stage. For one year, she performed around the MD, DC, and VA area with Doc Scantlin and His Imperial Palms Orchestra, dancing and singing Andrews Sisters style trio harmonies while learning the ins and outs of how a large scale professional band is run.
After relocating to New Orleans in 1999 for a job with New York City fashion designer, Betsey Johnson, Vanessa found the desire to perform again. It was the height of the Burlesque revival era and she quickly became involved with The Original Shim Shamettes, dancing in group numbers and singing for the troupe. When they disbanded, she found herself involved with The SophistiCats and The SophistiKittens, a surf and bump-n-grind style band with Go-Go dancers. When the group decided to go totally instrumental in 2004, Vanessa set out to create her own project, Gal Holiday and the Honky Tonk Revue.
Throughout the years, Vanessa has lent her talent to other musical acts both on stage and in the studio, highlights which include The Blind Boys of Alabama, Dr. John, and Squirrel Nut Zippers, with whom she has toured.  She appears on their 2018 release, Beasts of Burgundy as a soloist on the album closer, Fade and continues to work closely with Jimbo Mathus who produced Lost & Found. Vanessa was honored with an induction into the Hall of Master Folk Artists at the Louisiana Folk Life Center on July 27, 2019.